Gregory Ain's Greene House Restoration
Los Angeles
2018-2021
The Marjorie M. Greene Residence was designed by prominent mid-century architect Gregory Ain in collaboration with architects Joseph Johnson, and Alfred Day in 1952, with an accompanying landscape design by Garrett Eckbo, Robert Royston and Edward Williams from 1953. A devastating fire in 2018 destroyed the residence and Frank and Ravi meticulously fully restored the house between 2019-2021. Until the May 2021 discovery of the presumably lost Ain MoMA House (now located in Croton-on-Hudson, NY), the Greene Residence was the only surviving building associated with the MoMA House.

Elements of the main floor plan of the Marjorie M. Greene Residence closely echo the configuration of the Exhibition House at MoMA, designed by Gregory Ain in 1950, which itself was based on plans developed for Ain's 1948 Los Angeles Community Homes development, a project that was thwarted as a result of Ain being blacklisted in the 1949 under suspicion of being a communist, essentially for designing affordable housing in racially integrated communities. The blacklisting incident was the subject of the exhibition "This Future Has A Past" in 2017, researched and curated by Christiane Robbins and Katherine Lambert for an installation at the Center for Architecture in New York.

The likeness of the Greene Residence in Silver Lake stands testament to the importance of this house in the lineage of Ain's work. The MoMA house plan was modified to accommodate the sloping hillside site, inserting an art studio for Ms. Greene on a lower level. et, the layout of the main floor retains the configuration and glazed walls of the living, dining, and kitchen areas in a strong resemblance to the MoMA house. Among Ain's dwindling projects following the blacklisting, the Greene Residence exemplifies his interest in using minimal space to optimal effect while drawing connections between the inside and the outside. Rather than subdividing the house into small, purpose-built rooms, Ain preferred to use pony walls, cabinetry, and furniture to create an efficient but flexible space where functions could flow freely into one another, even omitting doors at entries to sleeping areas. The house also features a butterfly roof (an inverted slope roof) mentioned by historian Esther McCoy as having been employed in only one house by Ain, used here to allow views down to the lake as one approaches the house from a few steps above.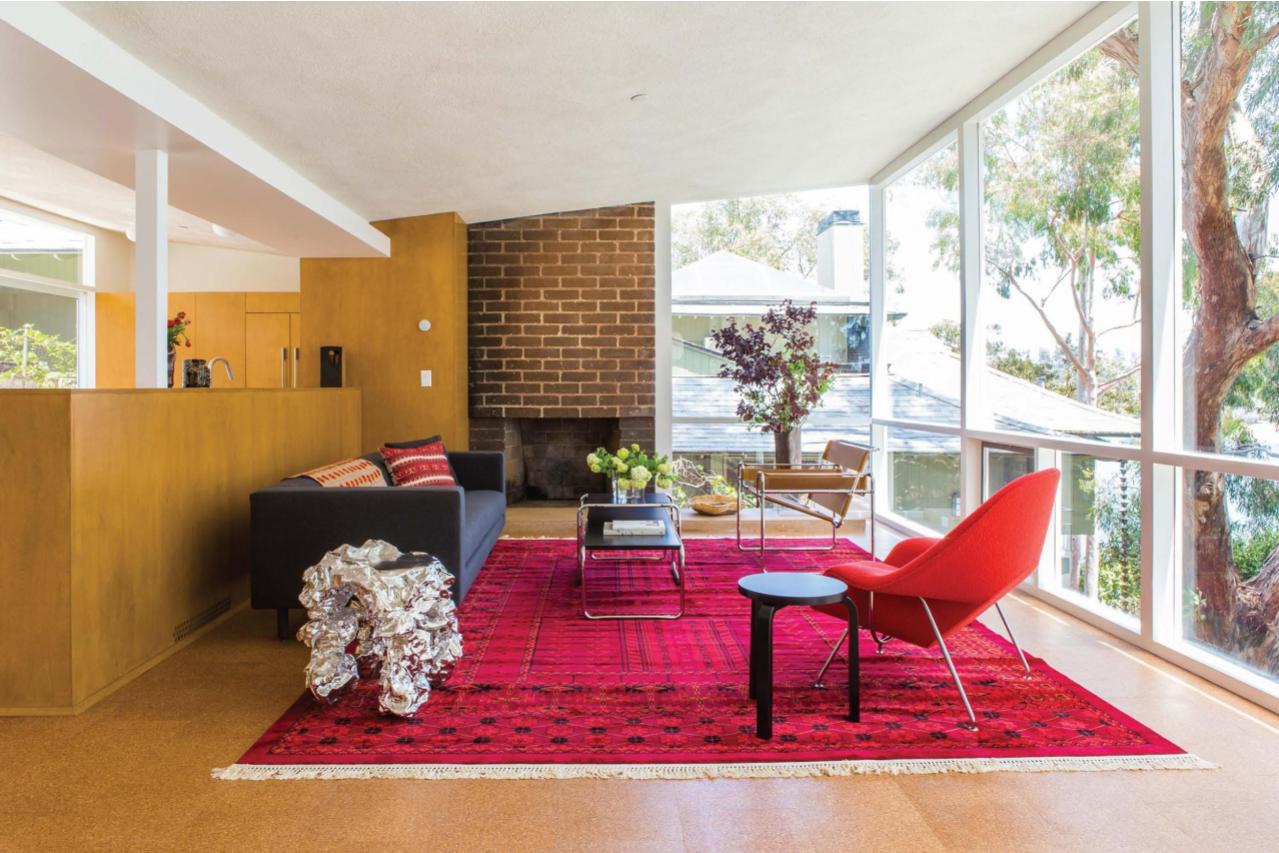 Photos by Janna Ireland